Phototherapy system for newborns now available from CMS
Central Medical Supplies Ltd (CMS) has been chosen by NeoMedLight as sole UK distributor for its new BiliCocoon phototherapy system for newborn babies with jaundice.
The system has been designed to deliver safe, controlled phototherapy to reduce the concentration of
bilirubin in the blood. Its aim is to treat neonatal jaundice without compromising the relationship between mother and baby. It features a lightweight, portable light box connected to LED light pads that wrap around the infant and there are two versions of the system.
The bag system provides an evenly spread LED light source from two light pads, enabling 360° body surface coverage. The two pads fit inside a soft, disposable bag, which then wraps around the newborn baby. This increases the amount of light absorbed by the infant and reduces the need for several phototherapy lamps. The nest system, ideal for preterm babies, has just one LED light pad that folds around the infant, making it compatible with incubators.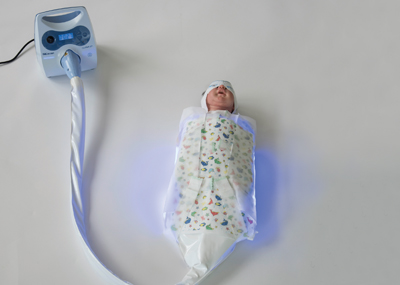 The BiliCocoon phototherapy system.
See our Supplier Guide:
Central Medical Supplies Ltd