Central Medical Supplies offers free Penguin Nutritional Warmer trial
The Ameda Penguin Nutritional Warmer effectively warms breast milk using temperature feedback sensor technology to ensure the safe and consistent warming of each feed. It quickly heats feeds to the ideal temperature range, reaching 37°C within 35-37 minutes and each feed will remain at the ideal target temperature for up to thirty minutes after it reaches the end of the warming cycle.
Multi-directional surround heating, along with gentle vibration technology, ensures the uniform and even warming of feeds. The vibration technology evenly mixes feeds during the entire warming cycle. This eliminates the need to shake or roll the breast milk, which can lead to separation of fats and lipids, potentially degrading its nutritional quality.
The Penguin Therma-Liner, a patented 'bag-in-bag' closed system design, keeps feeds safe from potential contamination from water, as the feed is protected in a waterless pouch. Furthermore, the Penguin warming system is quieter than other systems – below the recommended neonatal unit sound level of <45dB – and doesn't subject infants to the additional stress associated of high intensity sound.
For a limited time, Central Medical Supplies Ltd is offering a free trial of the Penguin Nutritional Warmer, along with purchase discounts. To request the free trial and further details about the product, contact Tracey Pavier-Grant, Sales & Marketing Director at Central Medical Supplies, on 01538 392 596 or email tracey@centralmedical.co.uk.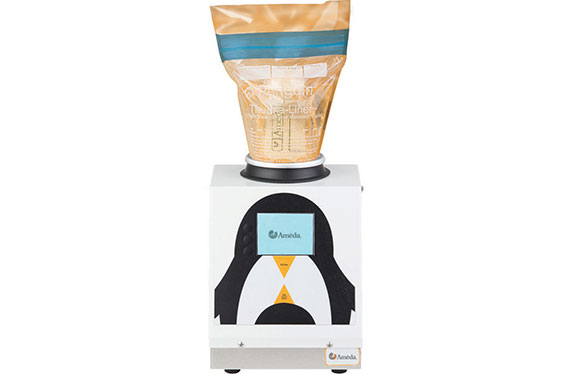 The Ameda Penguin Nutritional Warmer.
See our Supplier Guide:
Central Medical Supplies Ltd