Bedside genetic test prevents life-long deafness in neonates
Gentamicin is the preferred and recommended antibiotic treatment for neonatal sepsis, however, for babies with an inherited genetic variant (called m.1555A>G), a single dose of this antibiotic can result in permanent hearing loss.
Genedrive's new point of care test potentially saves thousands of neonates from life-long antibiotic-induced deafness. Taking just 26 minutes, the bedside machine identifies whether a critically ill baby admitted to intensive care has the genetic variant; those that do, can be given an alternative antibiotic. Approximately 1 in 500 babies have the genetic variant and the introduction of the rapid swab test to identify susceptibility to deafness has the potential to prevent hearing loss in 180 babies in England every year.
Clinicians and nurses in neonatal intensive care units across Manchester University NHS Foundation Trust (MFT) will be the first to use Genedrive's MT-RNR1 assay. The Genedrive System, is now fully CE certified to be used in a clinical setting and around 300 nurses are being trained to use the machine across MFT at Saint Mary's Hospital, Wythenshawe Hospital, and North Manchester General Hospital. The test is expected to be routinely used in all the hospitals' neonatal units within weeks.
To find out more:
www.manchesterbrc.nihr.ac.uk/our-research/hearing-health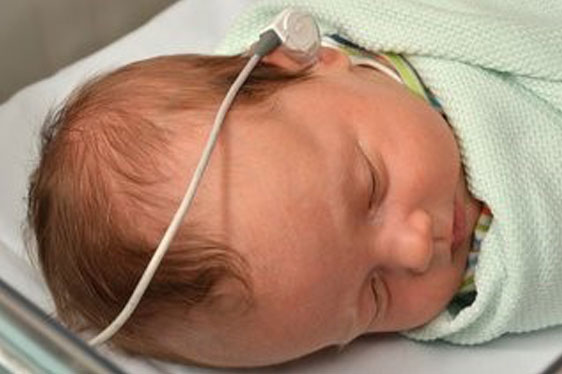 A newborn hearing screening test to identify babies who have permanent hearing loss.