NICE publishes two new quality standards
The National Institute for Health and Care Excellence (NICE) has published a new quality standard on neonatal parenteral nutrition describing high-quality care in priority areas for improvement. It covers intravenous feeding for babies born preterm, up to 28 days after their due birth date, and babies born at term, up to 28 days after their birth. The quality standard advises neonatal parenteral nutrition is delivered through infusion sets, syringes and standardised bags that are protected from light. It also says that healthcare professionals should have access to a specialist nutritional multidisciplinary team. This quality standard builds on the existing guideline on neonatal parenteral nutrition.
The neonatal parenteral nutrition quality standard can be viewed here:
www.nice.org.uk/guidance/qs205#:~:text=This%20quality%20standard%20covers%20parenteral,in%20priority%20areas%20for%20improvement
NICE has also published a comprehensive quality standard designed to improve the diagnosis, assessment and prevention of fetal alcohol spectrum disorder (FASD), a series of preventable birth mental and physical birth defects associated with alcohol use during pregnancy. The quality standard highlights five key areas for improvement, including: referral for children with possible prenatal alcohol exposure; neurodevelopmental assessment for children with confirmed prenatal alcohol exposure or all three facial features associated with prenatal alcohol exposure; and, a management plan to address the needs of those with a diagnosis of FASD.
The FASD quality standard can be viewed here: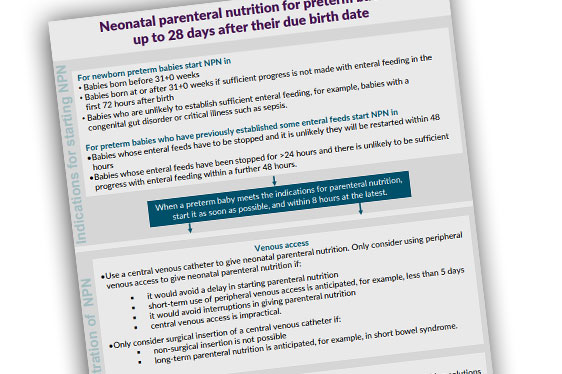 NICE has also produced algorithms to guide neonatal parenteral nutrition.