The Neonatal Research Priority Setting Partnership thanks you for your questions
The Neonatal Society, the British Association for Perinatal Medicine (BAPM), the Neonatal Nurses Association (NNA) and the Royal College of Paediatrics and Child Health (RCPCH) have formed the Neonatal Research Priority Setting Partnership to identify and prioritise research questions that can be tested in randomised trials in UK neonatal care.
The first phase of the project has identified over 250 questions, submitted in 'population, intervention, comparison, outcome' (PICO) format by parents, nurses, allied healthcare professionals, doctors and researchers. These span topics encompassing nearly every branch of neonatal practice, including family-integrated care, cardiology, neurodevelopment and feeding.
Phase 3 involves asking the perinatal community to prioritise questions in order of importance by completing an online questionnaire, called a Delphi survey. Anyone with an interest in neonatal care can get involved and there will be an opportunity to submit any further questions during the first round of the process.
If you would like to be involved in the next stages, please contact Dr Katie Evans, Project Co-ordinator and Honorary Clinical Research Fellow in Neonatal Medicine: katie.evans7@nhs.net
For out more: www.bapm.org/researchqs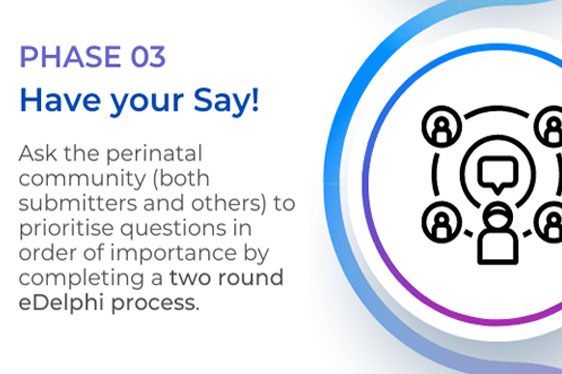 The Neonatal Research Priority Setting Partnership moves into Phase 3.
See our Supplier Guide:
British Association of Perinatal Medicine