Research study reports favourable outcomes with continuous monitoring of sugar levels
A research study by Kathryn Beardsall and the REACT (Real Time Continuous Glucose Monitoring in Neonatal Intensive Care) Collaborative supports the clinical use of continuous glucose monitoring (CGM) in preterm infants to optimise nutritional delivery alongside improving glucose monitoring and management.
Hyperglycaemia and hypoglycaemia are common in preterm infants and have been associated with increased risk of mortality and morbidity. In standard neonatal care, a baby's blood is sampled every few hours with treatment adjusted accordingly. With CGM, a sensor inserted under the skin monitors glucose levels constantly.
The research study, published in The Lancet Child and Adolescent Health, looked at real-time CGM versus standard care in an international randomised controlled trial carried out in 13 neonatal intensive care units across the UK, Spain, and the Netherlands. Compared with infants in the standard care group, infants managed using CGM had more time in the target glucose concentration range of 2·6-10mmol/L. This was achieved by reducing the number of infants exposed to prolonged or severe hyperglycaemia and episodes of hypoglycaemia lasting more than one hour.
More infants in the standard care group were exposed to at least one episode of sensor glucose concentration of less than 2·6mmol/L for more than one hour than those in the intervention group. There were no serious adverse events related to the use of the device or episodes of infection.
The authors conclude that real-time CGM can reduce exposure to prolonged or severe hyperglycaemia and hypoglycaemia, and can provide more targeted glucose control with less invasive blood glucose testing.
Reference
Beardsall K, et al. Real-time continuous glucose monitoring in preterm infants (REACT): an international, open-label, randomised controlled trial. Lancet Child Adolesc Health 2021;5:265-73.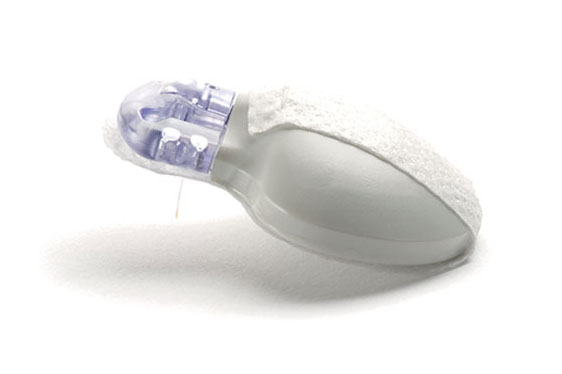 The Enlite Glucose Sensor by Medtronic, used in the study of continuous glucose monitoring in preterm infants.