Neonatal incubator achieves first clinical use in the UK
Many deaths of premature babies could be prevented through access to thermoregulation, however, only a small minority of premature babies have access to conventional incubators, which are regularly inoperable or discarded due to a lack of servicing and spare parts in many parts of the world.
The vision of James Roberts, Founder and CEO of mOm, and his team is to reduce the number of premature baby deaths globally and this is what inspired them to create the mOm Incubator, an alternative to conventional incubators that is cost-effective, compact, and easy to maintain.
In 2014, James' prototype caught the attention of the James Dyson Foundation, which awarded him the global James Dyson Award. Now, the early design of 2014 has progressed into the life-saving mOm incubator, which is backed by Holly Branson, Chief Purpose and Vision Officer at Virgin.
mOm provides a life-saving solution in challenging, low/middle income settings, and a more flexible option for neonatal care in the UK and the developed world. The mOm Essential Incubator:
gives a stable heated environment with performance that meets international standards
is cost-effective, high-quality, and robust
is easy to store and transport – it's lightweight and compacts to approximately half its size
has been designed to be easily cleaned and incorporates a replaceable infant compartment
is energy efficient, can run off inconsistent voltage supplies and incorporates a backup battery
is designed to work in challenging environments, while being easy to maintain.
Having recently trialled the incubator in a clinical setting for the first time, James comments: "Sustaining a child's life in our incubator for the first time has been a humbling experience and a monumental step in transforming this dream into a practical reality."
Peter Reynolds, Consultant Neonatologist at St Peter's Hospital Chertsey, says: "I am delighted that we have successfully recruited the first few babies into the mOm incubator clinical trial at St. Peter's Hospital. I am very grateful to their parents who agreed to their participation. Keeping babies warm is a fundamental part of good neonatal care and we are pleased to be leading this evaluation of the new mOm incubator."
For further information, visit www.momincubators.com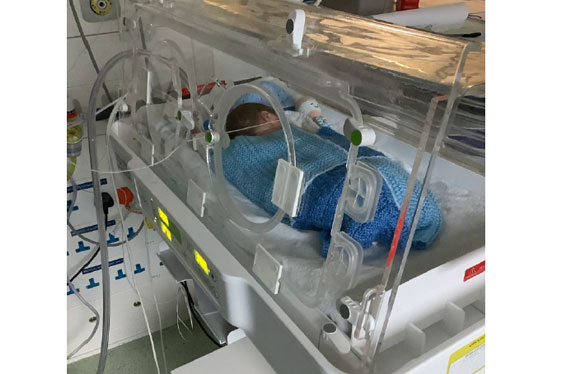 The mOm incubator in use at St Peter's Hospital.
See our Supplier Guide:
mOm Incubators Ltd