'No one wants to see my baby' report published
No One Wants to See My Baby is a follow up to the 2020 report Babies in Lockdown. Both reports show that COVID-19 and the measures introduced to control it are still having an impact on babies, their families and the services that support them and exacerbating underlying inequalities.
The report is based on in-depth follow-up studies with 11 families, a review of the literature and a survey of volunteers and professionals who work with families around the UK. The research shows that, although many of the pandemic restrictions have been lifted, parents are still struggling to access essential services to help them through pregnancy and beyond, with problems including accessing face-to-face medical care, reduced access to health visitors and a lack of community parent and baby groups – all of which are taking a toll on parents' mental health.
No One Wants to See My Baby was produced as a collaboration between Best Beginnings, the Parent-Infant Foundation and Home-Start UK and the report calls on the government for a three-step recovery plan for babies and children:
invest in health visiting services
take a cautious, evidence-based approach to remote and phone-based service delivery
ensure babies, and services supporting them, are at the heart of COVID-19 recovery policy and investment.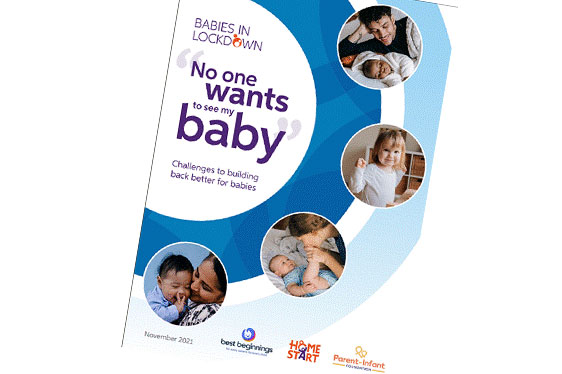 The report on the ongoing impact of COVID-19 on babies and their families.