nëo brain monitor available from Central Medical Supplies
ANT Neuro's nëo cerebral function monitor (CFM) is designed specifically for busy neonatal intensive care unit (NICU) workflows – it is easy to use and simplifies workflow from electrode application to monitoring, event annotation, data export and review. It is simple to set up with neonatal Waveguard caps (or needle/gel electrodes), with just two clicks to commence recording.
The nëo CFM integrates into a NICU's neonatal brain monitoring protocols. It incorporates a state-of-the-art medical grade touchscreen and all-in-one PC system with ANT Neuro's CFM software. It provides aEEG (amplitude integrated EEG), real-time EEG and the measurement of impedance in up to eight-channel configurations. Automatic annotation of seizure activity is available on up to two user-defined aEEG channels. According to the manufacturer, the easy-to-navigate user interface allows real-time monitoring of brain function, providing vital data that may assist in predicting outcomes. The nëo has intuitive navigation and flexible patient settings with less artifacts due to the high-grade amplifier.
Tracey Pavier-Grant, Sales Director at Central Medical Supplies, says: "nëo is a great product in our neonatal product portfolio. The gentle cap, without the need for needles, is a massive breakthrough, particularly for neonates. As well as being gentle on the patient, nëo is easy to use and provides many benefits to NICU monitoring and identifying often difficult to diagnose complications, such as non-convulsive seizures."
Further details are available here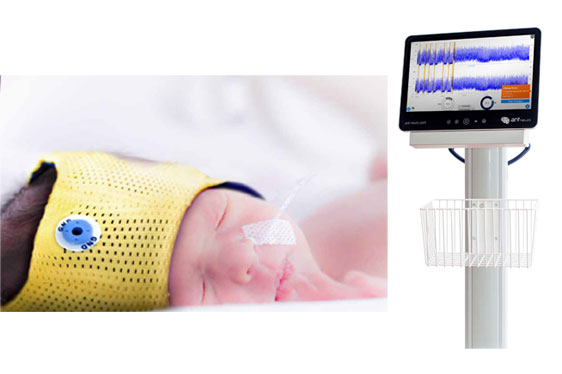 The nëo CFM monitor and Waveguard cap for aEEG and EEG monitoring of neonates.
See our Supplier Guide:
Central Medical Supplies Ltd