South West charity premieres second nationwide neonatal animation
In 2019, the NICU Foundation, in partnership with the South West Neonatal Network, launched a first of its kind animation aimed at helping to alleviate worries faced by new parents about the unfamiliar environment, equipment and everyday noises of a neonatal unit.
Since its launch, the animation has been made available in over 120 neonatal units across the UK as well as many support networks and charities, and has received thousands of views across various websites and digital platforms. The animation is also available within various units in France, Australia, New Zealand and North America.
Based on the success of the first animation, the NICU Foundation began production almost immediately on a second one, which launched in October 2021. The focus of the new animation is to support parents who have had a stay in a neonatal unit, to prepare them for taking their little ones home for the very first time. The animation shares important information for parents on what they might expect as they prepare for their journey home, such as parent craft sessions, baby milestones, discharge planning meetings and at home administration of medicines.
The animation has now been distributed to neonatal units across the UK, along with handy QR cards, making it easy for parents to scan and access. The funds used to create the animation were raised by supporters across the South West and beyond, including their Big Steps for Miniature Lives campaign in June 2021 which raised over £4,000.
The animation is a free resource which can be viewed on the NICU Foundation website at www.nicufoundation.co.uk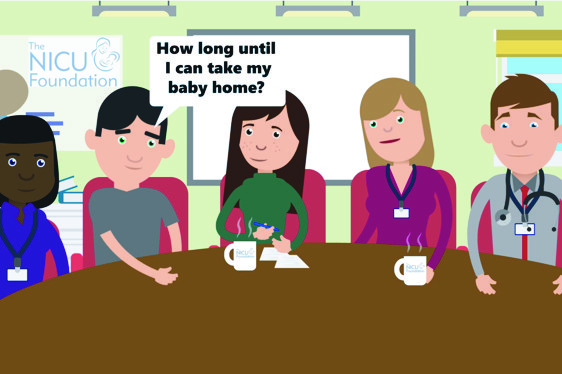 A new animation to help neonatal unit parents.