Dräger's new ceiling supply units offer greater flexibility
Ceiling supply units are a major factor for the organisation of acute care workplaces. By bringing medical equipment off the floor, Dräger's Ambia and Ponta ceiling supply units offer opportunities to mount devices and accessories in a structured and tidy way, helping to make work flow in the neonatal unit more efficient.
The Ambia and Ponta units allow individual configuration of workplaces, offering more connection options for medical devices and accessories and capacity for electrical and gas outlets, which can be freely positioned.
An ergonomic set-up is important – in order to position the ceiling supply units more intuitively, the handles have touch-sensitive sensors that automatically release the brakes. The handle positions can be adapted to suit individual work processes. In addition, rounded profiles and smooth disinfection-resistant materials help make the supply units easy and quick to clean and disinfect. The sophisticated cable management system in the shaft reduces the accumulation of dirt. A touchless working environment contributes toward infection prevention.
With their coordinated colour concepts and decor variants, Ambia and Ponta can be easily integrated into any room concept, supporting a health-promoting environment. The ceiling and floor lights feature warm, glare-free light, thus contributing to a calming therapeutic atmosphere.
For further information visit: www.draeger.com/en_uk/Hospital/Medical-Ceiling-Supply-Units?cid=vu-global-2021-09-14-ambia-vurl-global-master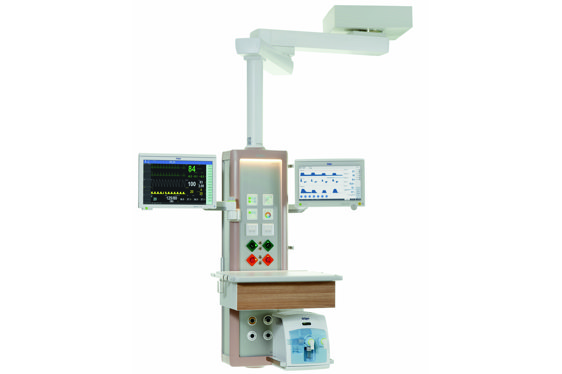 The Ambia ceiling-mounted supply unit.
See our Supplier Guide:
Draeger Medical UK Ltd