EAP launches 'Vaccinate your Child' campaign
The European Academy of Paediatrics (EAP) has launched 'Vaccinate your Child' – a campaign to increase levels of child vaccination and fight misinformation about vaccines.
Vaccination of children against infectious diseases slowed during the pandemic. In 2021, with world attention on the roll-out of an effective and safe COVID-19 vaccine, EAP is concerned that communicating the vital need for vaccinating children will be difficult to achieve. Without a significant increase in vaccinations, children will continue to suffer and to die from preventable diseases.
EAP wants to remind parents that their children must be protected against infectious diseases through vaccination. Adamos Hadjipanayis, President of EAP, says: "In my career as a paediatrician, I have seen children die from diseases which are vaccine preventable. Myths related to vaccines lead some parents to leaving their children unprotected, thus endangering both their children and those who cannot be vaccinated. Vaccines are among the safest pharmaceutical products. They are subject to the strictest safety regulations and continuous surveillance. As a doctor and a parent, my message to everybody is vaccines are safe. Vaccines work. Do not take risks with your child's health. Vaccinate your child."
For this campaign, EAP has put together a pack:
Vaccinate Your Child banners for paediatric doctors to post a photo of themselves on their social media channels
slides intended for display in medical centres.
For more information about the campaign and to download resources visit: www.eapaediatrics.eu/eap4vaccinations-vaccinate-your-child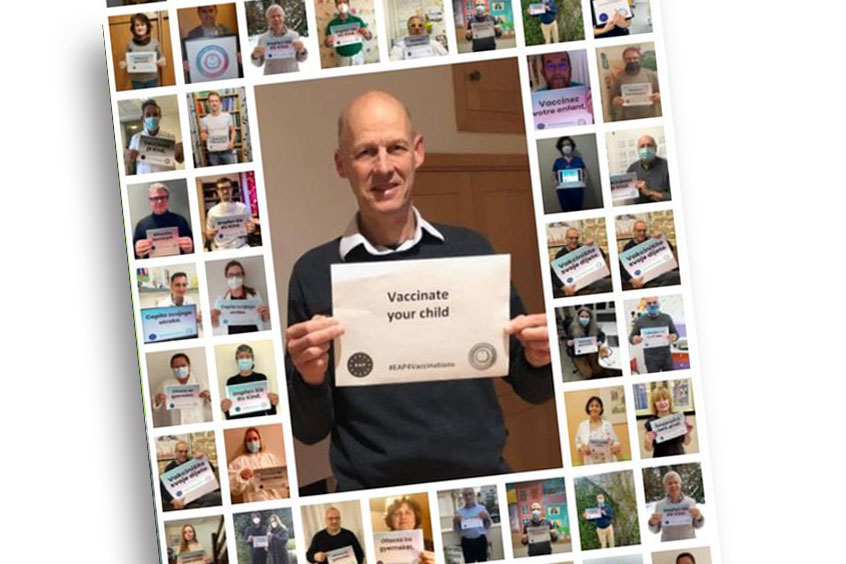 Paediatric doctors are encouraged to post a photo of themselves with the banner on their social media channels.