QEQM improves safety for neonatal patients with new software
The Special Care Baby Unit (SCBU) at QEQM installed eight new Mindray ePM after recording discrepancies in the key SpO2 parameter on its old equipment during patient transfers. After a successful trial, the unit worked closely with Mindray to develop a specialised goal management tool for oxygen therapy, using the ePM's configurable neonatal dashboard. When a baby remained on oxygen for an extended period of time, the SCBU would carry out an in-depth study for the affected neonate, which would often have to be repeated for accuracy. These studies would often last an average of four days and involve posting data to the unit's sister site for downloading and analysis. This meant the average length of stay for affected babies was eight days, totalling £3,200 per baby.
The new devices have helped generate a 95% reduction in time-consuming sleep studies, delivering an estimated cost saving of £32k per annum for East Kent Hospitals University Foundation Trust.
With such vulnerable patients at varying levels of stabilisation, the unit identified the need for more precise individualised targeting. SpO2 target tracking is now defined into precise high and low limits for each baby, through an easy-to-read sliding scale graphic. The SCBU can also spot trends in patient conditions and employ precision target tracking for longer periods of time, facilitating more informed clinical decision making. Using the ePM's data storage capabilities, staff can enter target saturation levels and track SpO2 levels within a selected time duration (up to 48 hours).
QEQM performed 22 sleep studies in 2019 but has only carried out one so far in 2020. This sharp decline in studies is a result of the ePM's specialised neonatal dashboard, as Ward Manager Tracey Twyman explains: "The new neonatal saturation screen has significantly reduced the number of formal sleep studies we are performing. It has enabled us to wean babies from oxygen safely and more effectively and has meant babies do not have to remain in the unit for longer than necessary."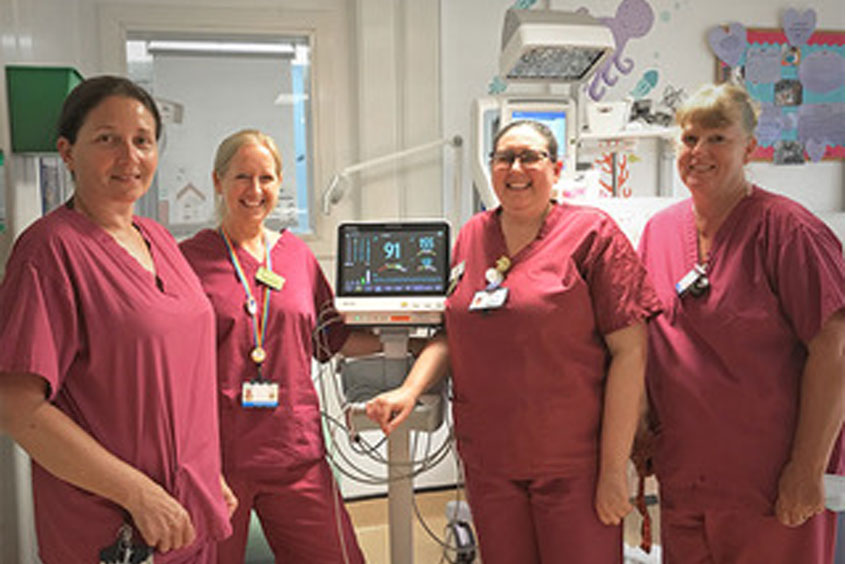 Tracey Twyman, Ward Manager (second from left), with the QEQM neonatal team.