Interface designed to prevent baby deaths in ambulances
Product design experts at Birmingham City University have teamed up with Evac+Chair International to develop a stretcher interface device (SID) for neonates that will ensure newborn babies could survive in the event of a crash in an ambulance at up to 40 miles per hour.
With the newborn contained within an incubator, the partners are devising a quick attach/release mechanism that will see the device disengage from oxygen, power and other survival supplies in the event of a road traffic incident, to then be transferred quickly to another ambulance vehicle.
Through Birmingham-based Evac+Chair International's ParAid brand, the company already produces an award-winning ambulance child restraint (pictured) – a harnessing system for the safe and effective
transport of infants and children. What makes the SID unique to previous designs is that it will isolate the baby from sudden accelerations and decelerations to reduce the stress of road transport.
To test the effectiveness of the design, the SID will be impact tested at 40 miles per hour in a similar manner to the way the European New Car Assessment Programme verifies the fit and protection offered by child restraints in the event of a front or side crash.
The SID will complement the existing range of products and services offered by Evac+Chair International.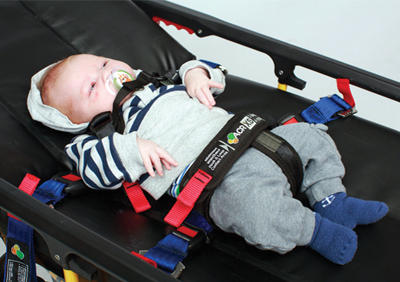 ParAid's ambulance restraint.
See our Supplier Guide:
ParAid