Babies in Lockdown report reveals challenges faced by parents and impact on early years
Following weeks of collaborative work with parents and with support from lots of other charities, Best Beginnings, Home-Start UK and the Parent-Infant Foundation have launched their Babies in Lockdown report.
Babies in Lockdown includes findings from a UK-wide survey completed by over 5,000 mothers, fathers and other co-parents. The report highlights the lack of support for families and the inequalities in babies' early experiences. For example:
almost seven in 10 found that their ability to cope with their pregnancy or baby had been impacted as a result of COVID-19
nearly seven in 10 felt the changes brought about by COVID-19 were affecting their unborn baby, baby or young child
only one third of respondents expressed confidence in being able to access mental health support
many families with lower incomes, from Black, Asian and minority ethnic communities and young parents have been hit harder by the COVID-19 pandemic and were less likely to receive the support they needed.
In the Babies in Lockdown report, the authors make three policy calls:
A one-off 'baby boost' to enable local services to support families who have had a baby during or close to lockdown
A new 'parent-infant premium' providing new funding for local commissioners, targeted at improving outcomes for the most vulnerable children
Significant and sustained investment in core funding to support families from conception to age two and beyond, including statutory services, charities and community groups
To support the campaign and find out more visit: www.babiesinlockdown.info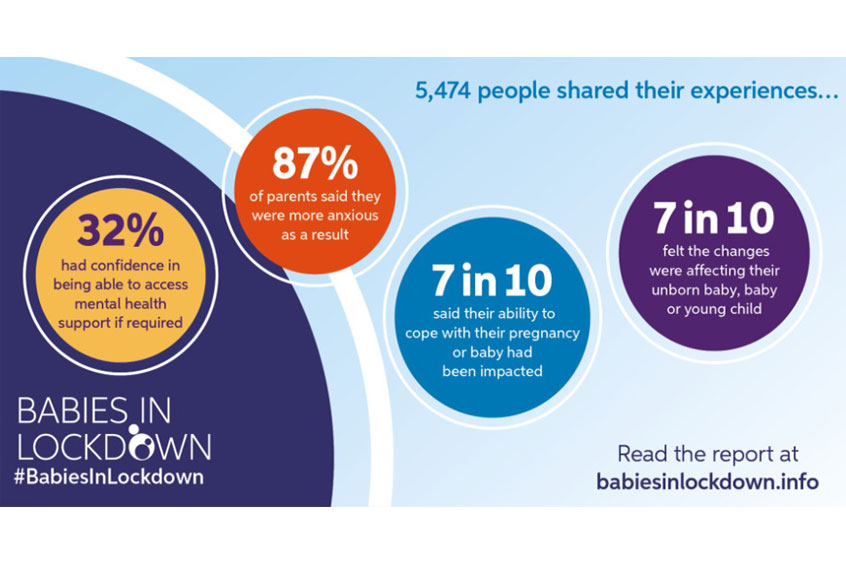 More than 5,000 people shared their experiences.