Andrea Leadsom MP visits Sands following new parental bereavement leave and pay law
The Sands offices in London have welcomed Andrea Leadsom MP, the government's Business Secretary.
Andrea confirmed the government has passed legislation in the Parental Bereavement Leave and Pay Act, which means working parents whose child dies will have the statutory right to a minimum of two weeks' paid leave.
From 6 April 2020 all employed parents whose child dies, or suffer a stillbirth from 24 weeks of pregnancy, irrespective of how long they have worked for their employer, will be eligible under the new law.
Sands' Chief Executive Clea Harmer welcomed Andrea who took the opportunity to find out more about the charity's work, including its consultancy services for employers, and how the new act will benefit newly bereaved parents who are grieving.
Andrea Leadsom MP, says: "There can be few worse experiences in life than the loss of a child and while most employers act with compassion, parents could not expect a guaranteed period of leave until now. I am proud that this government has enshrined the world's most generous paid bereavement leave in law, giving parents some space to grieve."
The right to parental bereavement leave and pay makes the UK one of a very few countries worldwide to offer such support, and the first to offer a full two weeks leave from work.
The policy will apply to biological parents, adoptive parents, and those having a baby with the help of a surrogate; as well as individuals who had a parental relationship to the child before the death, for example kinship carers and certain foster parents.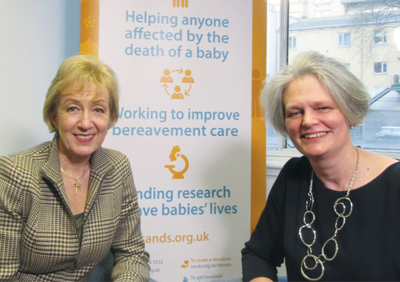 See our Supplier Guide:
Sands (Stillbirth & neonatal death charity)