Premature baby gorilla bottle fed by keeper
Central Medical Supplies, sole UK distributor of Dr Brown's range of bottles, has shared details of an unusual patient.
Yaounde, a Western Lowland Gorilla, was born prematurely in June last year and was abandoned by her mother at birth. Having tried various feeding methods, staff at Howlett's Wild Animal Park in Kent discovered that the Dr Brown's bottles were the only bottles Yaounde took to. The vacuum-free bottle design is ideal for feeding premature babies, as the babies don't have to fight against the growing vacuum that builds up in a traditional bottle. This, coupled with the narrow teat and slow flow, made the Dr Brown's bottle ideal for Yaounde.
George Newman, Gorilla Keeper from the animal park, says: "Yaounde was in a very vulnerable condition when we discovered her and it took a number of weeks before she was able to suckle from a bottle. Amazingly she is now more than four times her birth weight and continues to develop."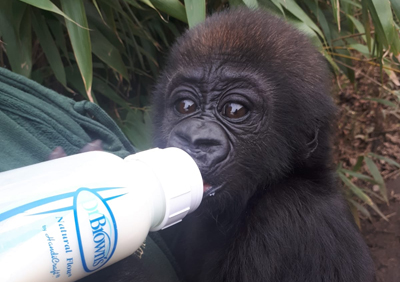 See our Supplier Guide:
Central Medical Supplies Ltd