Sands takes tiny steps with Poco Nido to help save babies' lives
Sands has announced a new partnership with Poco Nido, an award-winning British brand that makes footwear for babies and children.
Poco Nido says its SS19 collection is its most exuberant range of mini shoes for babies and toddlers yet. The collection is inspired by circus and fairground fun and features eight new prints, and eight plain mini shoe colours.
As part of its 2019 good causes pledge, Poco Nido will be donating £1 from the sale of every pair of Hot Air Balloon and Carnival print mini shoes sold to the charity.
A sticker with the Sands logo will appear on the box of each pair of shoes sold to raise awareness of the charity and the partnership.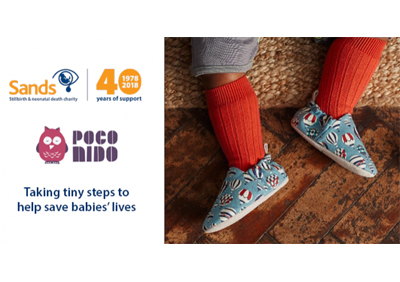 Photography - Leonie Freeman.
See our Supplier Guide:
Sands (Stillbirth & neonatal death charity)