AXifeed - The only truly tamper-evident EBM storage bottle range
*FEATURED PRODUCT ADVERTORIAL*
The AXifeed Expressed Breastmilk (EBM) storage bottle and cap range, from specialist neonatal supplier Central Medical Supplies Ltd (CMS), is the only truly tamper-evident system, providing clear verification that feeds are safeguarded from accidental or deliberate contamination.
The AXifeed bottles support risk management procedures for both milk banks and neonatal units. Whether used for delivering a mother's own milk, donor milk or special feeds, AXifeed bottles ensure the highest level of protection for newborn, premature and sick babies. Manufactured from HDPE, AXifeed bottles are suitable for freezing to minus 40°C, with no risk of cracking or splitting. Bisphenol A and Pthalate free, the bottles are fully compliant with EU Directive 2011/8/EU.
The bottles come with white caps featuring a tamper-evident band that shows, and guarantees, the bottle is 'factory safe' sterile. Colour coded tamper-evident caps are also available. Once filled, AXifeed bottles can be resealed with these different coloured sterile caps. There is a blue cap to denote donor breastmilk and green and yellow caps to denote breastmilk and/or special feeds. The colour coded cap system gives additional peace of mind and ensures the integrity of the feed from source to baby. To re-tamper proof the bottle, simply place a new cap on the filled bottle and screw closed – an extra half turn will ensure the cap is secured below the safety rim.
By using AXifeed bottles, healthcare professionals can be sure breastmilk storage is contamination free and safe, as CMS uses electron beam irradiation for the sterilisation of the bottles. Electron beam irradiation is the safest and most reliable system available for bottle sterilisation. The system give peace of mind that breastmilk is truly contamination free and safe.
For more information on the AXifeed product range, along with ordering details, contact Tracey Pavier-Grant, Medical Sales Director at Central Medical Supplies, on 01538 392 596, email tracey@centralmedical.co.uk or visit www.centralmedical.co.uk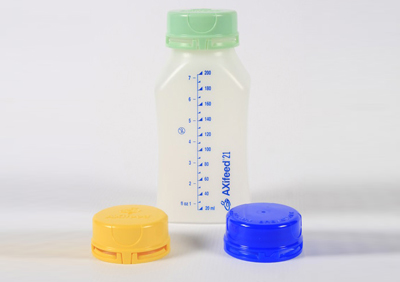 See our Supplier Guide:
Central Medical Supplies Ltd