#15babiesaday initiative joins forces with Refuge
On 15 June Sands, the stillbirth and neonatal death charity, erected washing lines with 15 babygrows hanging from them in iconic locations around the UK to provoke a discussion as to why 15 babies die before, during or shortly after birth every day in the UK.
Locations for these #15babiesaday displays included the Houses of Parliament, Tower Bridge, Tate Modern, the London Assembly and outside parliament buildings in Edinburgh, Cardiff and Belfast.
The 750 babygrows that were displayed around the UK are now being donated to anti-domestic violence charity Refuge to highlight the fact that domestic violence can be a cause of miscarriage, stillbirth and neonatal death.
Almost one fifth of women who arrive at Refuge's services are pregnant or have recently had a baby. This increases to 23% in Refuge accommodation.
The #15babiesaday initiative was part of Sands Awareness Month, which also saw the launch of a safer pregnancy website, which signposts women to evidence-based information around risks in pregnancy and delivers pregnancy messages in an accessible way. The website is available at www.saferpregnancy.org.uk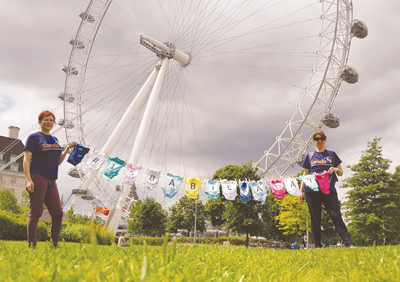 750 washing lines of babygrows were set up around the country.
See our Supplier Guide:
Sands (Stillbirth & neonatal death charity)