Portable cuddle cots help bereaved families in Hull
Families of babies who die before or just after birth will be given the chance to spend time with their children in their own homes.
Hull and East Yorkshire Hospitals NHS Trust is now offering parents portable cuddle cots if they wish to take their babies home before funerals.
Specialist bereavement midwife Sue Cooper says: "The introduction of the two portable cold cots is another step forward in improving our support for bereaved families.
"It was difficult for us to offer that service in the past because you need special conditions to look after a baby in a home environment.
"Now, thanks to the generosity of Sands and donations from a family who wanted to help our NICU, we have two portable cold cots allowing families to take their babies home if that's what they want to do."
Although cold cots were already available in the labour ward and the NICU, families were not previously able to take their babies home.
The trust recently introduced a new policy to offer scans and memory boxes to women suffering early miscarriages, ectopic and molar pregnancies. Memory boxes are also given to families experiencing the death of their babies before or just after birth.
A dedicated room, away from the other labour rooms, has also been set up at Hull Women and Children's Hospital where women who have been told their babies have died can be in a peaceful setting up to and after the birth of their child.
Supported by Sands, the maternity service is looking to provide a second room for additional capacity so families are not rushed to leave as they grieve their babies.
Sue adds: "We want to make sure our families have options so they can begin to grieve for their babies in the best way for them.
"We are determined to ensure our service responds to people as individuals rather than adopt a blanket approach."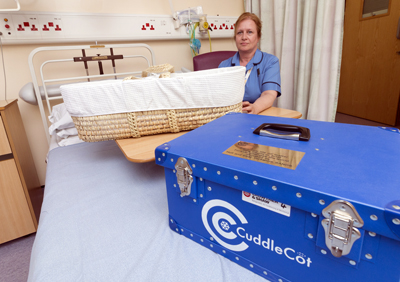 The portable cold cots have cold plates that can be fitted inside a Moses basket.
See our Supplier Guide:
Sands (Stillbirth & neonatal death charity)
/
Hull Royal Infirmary