Charity cheque boosts funding for bereavement suite at Wishaw
A charity has raised a total of £15,000 to help NHS Lanarkshire create a special haven for bereaved parents who have lost a baby.
The Glasgow Sands stillbirth and neonatal death charity met staff to hand over the cheque, which will boost funding for a maternity bereavement suite set to open soon at University Hospital Wishaw.
NHS Lanarkshire chief midwife Lyn Clyde says: "The bereavement suite will be a place of comfort to those who have lost a baby after coming to the hospital to have their child.
"It will provide a peaceful, homely area separated from other parents and babies where bereaved mums and dads can spend some quiet time with their child."
The Wishaw development has been designed using the best aspects of existing bereavement suites throughout the country and it's hoped it will be open by the end of the summer.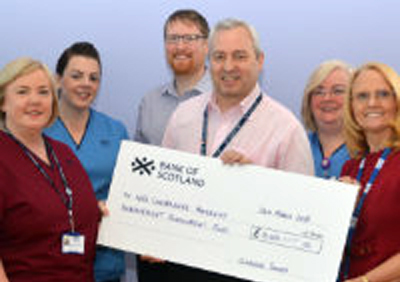 Chief midwife Lyn Clyde, midwife Vicky Grove, Sands network co-ordinator Chris Somerville, Glasgow Sands befriender Gavin Moir, midwife Veronica Winters, bereavement specialist midwife/counsellor Elaine Hamilton.
See our Supplier Guide:
Sands (Stillbirth & neonatal death charity)
/
University Hospital Wishaw