SLE and the University of Tasmania announce licence of technology designed to reduce infant mortality
SLE Ltd and the University of Tasmania have announced that they have concluded a commercial licence that will see SLE begin incorporating the university's patented algorithm (using a closed-loop control for optimised oxygen concentration in the blood circulation of infants) into the SLE6000 neonatal ventilator.
Branded OxyGenie, the technology has been developed over the last nine years by a team of scientists led by Professor Peter Dargaville of the Tasmanian Health Service and Dr Tim Gale of the School of Engineering and ICT at the University of Tasmania and is now being integrated into the SLE6000 in collaboration with the SLE engineering department.
Past multi-centre studies have shown that vulnerable infants are very susceptible to changes in the oxygen in their circulation. Maintenance of this blood oxygen in a narrow but critical band may reduce mortality, retinal damage and other long-term effects. OxyGenie technology, which is currently only licensed to SLE, will keep infants within the target range without the intervention of clinical staff.
Findings of a clinical study of the algorithm that reinforce its capacity to control oxygen delivery in tiny preterm infants under challenging clinical conditions will be presented at the Society for Paediatric Research meeting in Toronto in May this year.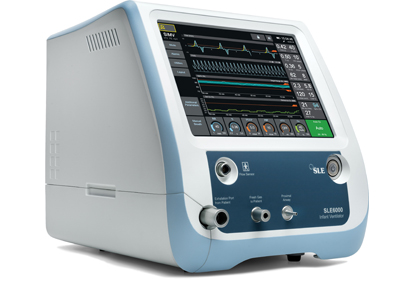 The OxyGenie technology will be incorporated into the SLE6000 ventilator.
See our Supplier Guide:
SLE Ltd