Caring couple donate CuddleCot to Birmingham hospital neonatal unit
The mum of a stillborn baby has donated a special CuddleCot to a Birmingham hospital to help other grieving parents. Kiera Pooler of Brierley Hill, Dudley, raised enough cash to pay for the £1,600 device, which she kindly handed over to the neonatal department at City Hospital.
The CuddleCot is a portable device that circulates cold air around babies who are stillborn or die before they have a chance to go home, to allow parents precious time to be with their baby before leaving the hospital.
Kiera was 27 weeks pregnant, when she found out her son, who she named Rogan-Lee, had died. Both Kiera and her partner Jake Hildred, aged 22, got to spend time with their baby after he was born at Russells Hall Hospital, in Dudley, because it had a CuddleCot.
Keira says: "Jake and I were able to have that extra time with Rogan-Lee after he was born and it meant so much to us. However, at the time, there was only one device there and there were five other parents who had babies that were born sleeping that day. It meant that they didn't have that special time with their baby like we did. So I decided to fundraise for a CuddleCot."
Since the tragedy, which happened more than two years ago, Kiera has carried out various activities to raise the money and sold badges and tops with Rogan-Lee's Charity on them.
She adds: "Once I had raised enough money I found out that Russells Hall didn't need a CuddleCot, so Sands (Stillbirth and neonatal death charity) found out which hospitals were in need of the cot. City Hospital came forward and so I was delighted to make the donation to them."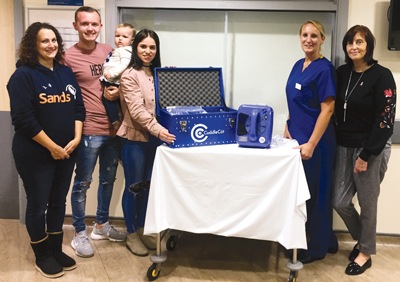 Nathalya Kennedy from Sands, Jake Hildred with baby Leila-Mai, Keira Pooler, ANNP Fran Wootton and Andrea Genner, sister in the Neonatal Bereavement Team.
See our Supplier Guide:
Birmingham Children's Hospital NHS Trust
/
Sands (Stillbirth & neonatal death charity)