Radiometer launches the next generation of transcutaneous monitoring
Radiometer has unveiled its CE-marked TCM5 transcutaneous monitor, aimed at addressing the critical care needs of neonatal, paediatric and adult patients, as well as sleep clinic and home care environments. The device offers continuous, non-invasive monitoring of transcutaneous oxygen and transcutaneous carbon dioxide, as well as Masimo SET peripheral capillary oxygen saturation, perfusion index and pulse rate in real time.
The premium TCM5 FLEX monitor is designed for critical care departments. It is particularly beneficial in neonatal intensive care due to its non-invasive nature. Numeric and trend displays, together with audible and visual alarms, alert clinicians to any change in a patient's status, enabling immediate intervention. For round-the-clock monitoring of neonates, a special NICU mode automatically monitors the duration of contact with the skin and controls the sensor temperature, helping to prevent damage to sensitive skin.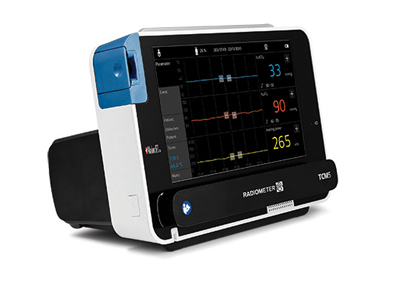 The TCM5 Flex is designed for critical care environments.
See our Supplier Guide:
Radiometer Ltd