Premature infants at St George's benefit from state-of-the-art incubators
The neonatal team at St George's Hospital, London, has received two new incubators, which were paid for through charitable funds.
Developed by Draeger, the incubators are new to the market and the hospital is the first in the UK to use them in clinical practice. They provide doctors and nurses with improved temperature and environmental humidity regulation, a quieter environment for the baby and improvements in access for parents. Babies can also be weighed in the cots using accurate weighing scales, and parents can play music softly to their child through phones or other electronic devices via a built-in speaker located on the inside of the cot.
The equipment was acquired thanks to generous donations from UPS and First Touch, the charity set up to support babies, families and staff on the neonatal unit.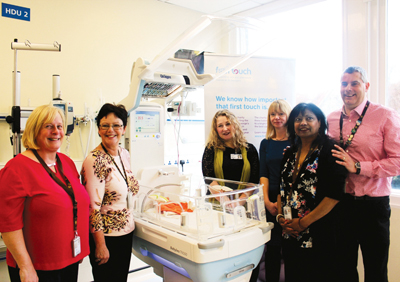 Staff at St George's Hospital with one of the unit's new Draeger incubators.
See our Supplier Guide:
St George's University Hospital
/
Draeger Medical UK Ltd