Neonatal transport: a guide to the latest equipment
Effective transportation of infants – a necessity in neonatal care – relies on trained transport teams with access to state-of-the-art, specialised equipment to keep a baby stable, warm and safe. In this issue of Infant we look at a neonatal transport restraint system, a lightweight incubator, a versatile critical care transport trolley and a variety of ventilators, all designed to assist with the challenges of neonatal transfers.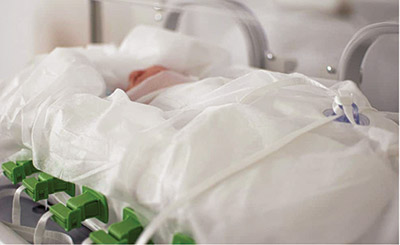 The Embrace neonatal transport restraint.
Protecting a baby in the event of heavy braking, cornering and impact
The Embrace neonatal transport restraint consists of a mouldable vacuum mattress and a soft, disposable flow cover with a safety net. The side quick-lock closures guarantee pressure distribution over the entire restraint system as well as quick access to the patient. The system can be individually adapted to each infant so potential problem areas, such as the head and extremities, can be optimally secured. Developed to accommodate children up to 3,900g, Embrace can be integrated into any transport incubator, following prior adaptation by the manufacturer. The Embrace neonatal transport restraint is available from Central Medical Supplies Ltd.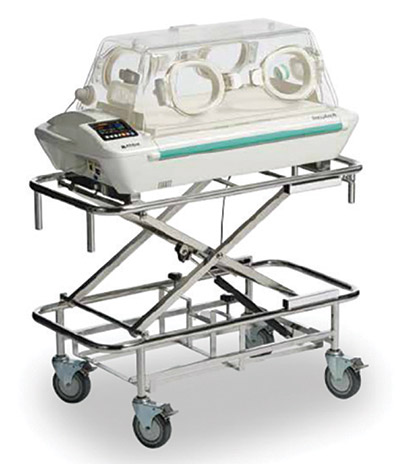 The Atom IncuArch Transport Incubator.
Lightweight incubator offers enhanced usability
The IncuArch Transport Incubator by Atom provides high-level medical treatment capabilities and exceptional mobility. It has an operation panel that is located beside the infant's head so that vital signs can always be checked, even during treatment. The hood is also designed to facilitate easy observation and its flat and smooth surface helps to ensure advanced wiping performance. The compact and lightweight design of the IncuArch – the main body weighs approximately 23kg – comes with a lightweight battery offering enhanced operating time. The IncuArch Transport Incubator is available from Walters Medical.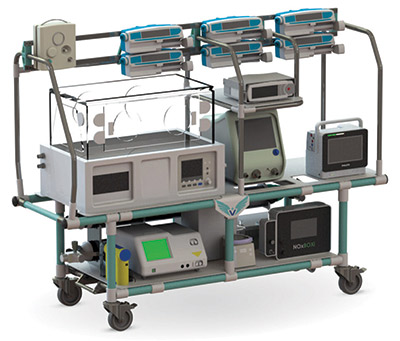 The Levana full rail Critical Care Transport Trolley.
One trolley meets diverse equipment needs
With the option of a full equipment rail or a half equipment rail, the Levana Critical Care Transport Trolley by Vanguard Medical provides a versatile canvas to build a system on. Specialists in neonatal medical solutions, Vanguard are able to provide off-the-shelf critical care transport equipment and offer bespoke solutions where further expertise is required.
High performance ventilators suited for neonatal transport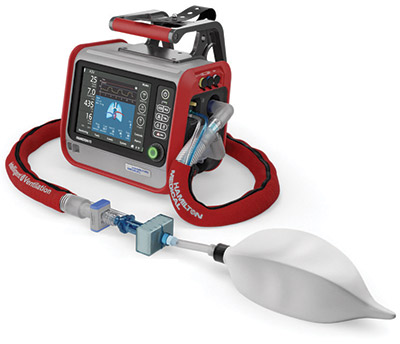 The Hamilton-T1 ventilator.
Combining the functionality of a fully featured NICU ventilator with the compactness and ruggedness required for transport, the Hamilton-T1 ventilator is highly flexible and offers the option of non-invasive and invasive ventilation, with conventional and advanced ventilation modes. There is automatic adjustment of trigger sensitivity to airway leaks in all modes, patient synchronisation with precise measurements from the proximal flow sensor, and configurable loops and trends.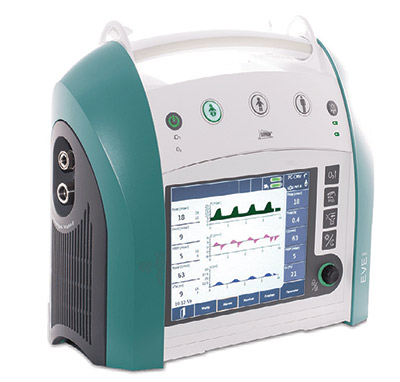 The EVE-nEO ventilator.
The EVE-nEO ventilator, designed by Fritz Stephan GmbH and available from Medacx Limited, has eight hours of continuous battery operation, making it truly portable. With invasive and non-invasive lung protective ventilation modes and a range of features including electronic oxygen mixing, high-flow oxygen, and an 8.4" full colour interactive touch screen.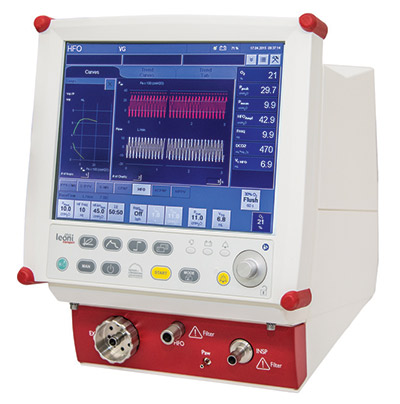 The Leoni plus Transport ventilator
The Leoni plus Transport ventilator expands ventilation possibilities with its ability to transport premature infants on high-frequency oscillatory ventilation (HFOV). The device has an integrated high-performance battery that enables standalone use for up to 200 minutes in conventional ventilation modes and up to 60 minutes in HFOV. The 12'' TFT colour screen is detachable and offers simple and intuitive operation. Available from Löwenstein Medical UK Ltd.

Free download PDF