Volume 16/Issue 5, September 2020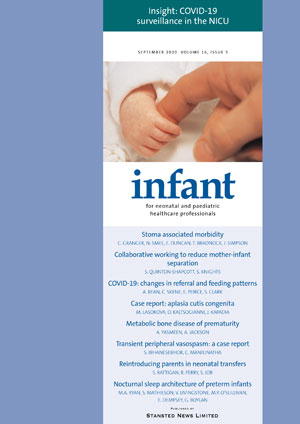 The articles in this issue are available to online subscribers as Adobe Acrobat PDF files and as an online page-viewer edition. Please visit our online store to buy a subscription. If you already have a subscription then please log in.
To buy a printed back copy of this issue, please call Tricia Rotheram on (01279) 714516.
---
Editorial
COVID-19 surveillance swabbing in a tertiary NICU
---
Case report
Transient peripheral vasospasm in a preterm newborn infant: a case report
---
Clinical practice
Changing referral patterns, reduced feeding-related problems and changes in breastfeeding during COVID-19
---
Quality improvement
Waving goodbye to the baby train: reducing mother-infant separation and drug errors by collaborative working
---
Research study
Nocturnal sleep architecture of preterm infants in the NICU
---
Review
Bone health of extremely preterm infants: screening, monitoring and management of metabolic bone disease of prematurity
Stoma associated morbidity in the preterm infant
---
Special report
A rare and unusual presentation of aplasia cutis congenita
NEC UK: providing support to families affected by necrotising enterocolitis
A neonatal nutrition network for sub-Saharan Africa
---
Update in practice
A structured approach to facilitate the reintroduction of parents in transport during the SARS-CoV-2 pandemic