Infant journal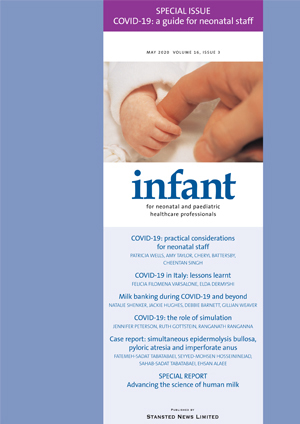 Infant journal covers a wide range of subjects that reflects the varied roles of the professionals working in this area. Practical and clinically based, Infant supports neonatal and infant paediatric nursing and medical practice and develops professional education and health promotion skills.
Infant provides a valuable resource for everyone involved in caring for premature babies and critically ill infants. Technological developments and their impact on care are discussed, as well as the social and psychological issues relating to family support and child development.
Articles in the May 2020 issue, available now, include:

National research to understand and better manage neonatal COVID-19
COVID-19 in Italy: lessons learnt
COVID-19: Practical considerations for neonatal staff
COVID-19: Role of simulation in the NICU
Family-centred care: the impact of COVID-19
Milk banking in the time of COVID-19
COVID-19 and the importance of breastfeeding
Advancing the science of human milk
Case report: Simultaneous epidermolysis bullosa, pyloric atresia and imperforate anus in a newborn

Topics planned for the July 2020 issue include:

Administering the hospital anxiety and depression scale
A neonatal palliative care curriculum for neonatologists
Effective teamworking to improve patient safety
Congenital nephrotic syndrome
Less invasive surfactant administration: an experience from Scotland
Stoma associated complications in neonates following laparotomy
Collaborative working to reduce mother-infant separation and drug errors
Using the PARCA-R to assess children's cognitive and language development at two years of age
Mortality data by day of life: should this be part of parental counselling on the NICU?
Transient peripheral vasospasm in a preterm newborn
Infant has a board of distinguished advisors whose experience and knowledge ensures that articles carried in the journal are factually correct, topical and relevant for all readers. All articles published in Infant are subject to peer review in order to guarantee that all content meets the highest standards.
Regular features

Editorial
Case reports
Review articles

Clinical practice articles
Focus on a unit
Conference reviews