Infant journal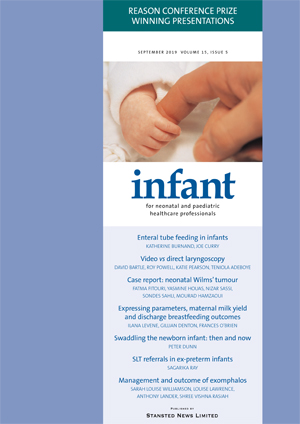 Infant journal covers a wide range of subjects that reflects the varied roles of the professionals working in this area. Practical and clinically based, Infant supports neonatal and infant paediatric nursing and medical practice and develops professional education and health promotion skills.
Infant provides a valuable resource for everyone involved in caring for premature babies and critically ill infants. Technological developments and their impact on care are discussed, as well as the social and psychological issues relating to family support and child development.
Articles in the September 2019 issue, available now, include:

Enteral tube feeding in infants
Swaddling the newborn infant
Video laryngoscopy vs direct laryngoscopy in neonates
Case report: Haemorrhagic shock revealing neonatal Wilms' tumour
Expressing parameters, maternal milk yield and discharge breastfeeding outcomes
Speech and language therapy referrals in children born preterm
Management and outcome for babies born with an exomphalos

Topics planned for the November 2019 issue include:

Enhancing trainee endotracheal intubation skills
Developmental dysplasia of the hips
The enhanced neonatal nurse practitioner role
Prevention is better than cure: management of neonatal haemochromatosis
Using social media to improve learning from risk incidents
Maladministration of expressed breast milk
Tackling feelings of shame and guilt about feeding babies
The effects of an interactive behavioural cues-based infant massage programme
Improving educational outcomes for children born preterm
Infant has a board of distinguished advisors whose experience and knowledge ensures that articles carried in the journal are factually correct, topical and relevant for all readers. All articles published in Infant are subject to peer review in order to guarantee that all content meets the highest standards.
Regular features

Editorial
Case reports
Review articles

Clinical practice articles
Focus on a unit
Conference reviews