Infant journal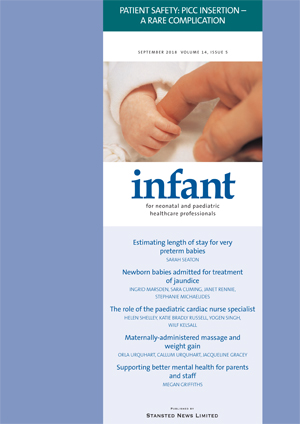 Infant journal covers a wide range of subjects that reflects the varied roles of the professionals working in this area. Practical and clinically based, Infant supports neonatal and infant paediatric nursing and medical practice and develops professional education and health promotion skills.
Infant provides a valuable resource for everyone involved in caring for premature babies and critically ill infants. Technological developments and their impact on care are discussed, as well as the social and psychological issues relating to family support and child development.
Articles in the September 2018 issue, available now, include:

Newborn infants admitted for the treatment of jaundice
Estimating length of stay for very preterm babies
Mental health support on the neonatal unit
Role of the cardiac nurse specialist
Maternally-administered massage and weight gain in preterm infants
PICC insertion: a rare complication

Topics planned for the November 2018 issue include:

Surfactant therapy – past, present and future
Antenatal and perinatal palliative care
A nurturing programme on the neonatal surgical ward
Cutting tongue ties may not help infants to breastfeed
Term admissions for hypoglycaemia: what have the BAPM recommendations changed?
Keeping mothers and babies together: implementing a single, simplified pathway for at-risk infants
Can we improve the success rate of neonatal lumbar punctures?
Infant has a board of distinguished advisors whose experience and knowledge ensures that articles carried in the journal are factually correct, topical and relevant for all readers. All articles published in Infant are subject to peer review in order to guarantee that all content meets the highest standards.
Regular features

Editorial
Case reports
Review articles

Clinical practice articles
Focus on a unit
Conference reviews