Infant journal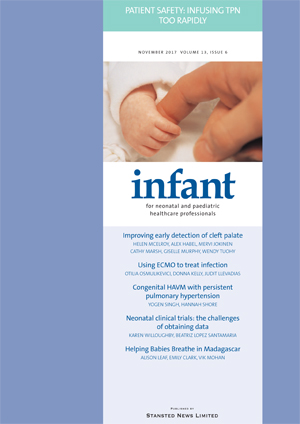 Infant journal covers a wide range of subjects that reflects the varied roles of the professionals working in this area. Practical and clinically based, Infant supports neonatal and infant paediatric nursing and medical practice and develops professional education and health promotion skills.
Infant provides a valuable resource for everyone involved in caring for premature babies and critically ill infants. Technological developments and their impact on care are discussed, as well as the social and psychological issues relating to family support and child development.
Articles in the November 2017 issue, available now, include:

Improving early detection of cleft palate
Neonatal clinical trials
Using ECMO to treat septic shock
Role of the neonatal support worker
Congenital HAVM with persistent pulmonary hypertension
Helping Babies Breathe in Madagascar
BAPM Conference report
Each Baby Counts
National Neonatal Audit Report
Patient safety: Infusing TPN too rapidly

Topics planned for the January 2018 issue include:

SIGNEC UK Fifth International Conference on Necrotising Enterocolitis
Neonatal and infant organ donation
Developmentally accurate newborn body posture
Blood warming devices for neonatal exchange transfusion
Life after the NICU
A neonatal surgical outreach service
Congenital laryngotracheal stenosis
Simulation and self-efficacy in neonatal nursing
Breast milk fortification and growth
Complications of ventriculo-peritoneal shunt placement
Strategies to prevent admission to the NNU
Neonatal transitional care
Hypoplastic left heart syndrome
The effects of prematurity on child development
Infant has a board of distinguished advisors whose experience and knowledge ensures that articles carried in the journal are factually correct, topical and relevant for all readers. All articles published in Infant are subject to peer review in order to guarantee that all content meets the highest standards.
Regular features

Editorial
Case reports
Review articles

Clinical practice articles
Focus on a unit
Conference reviews