Infant journal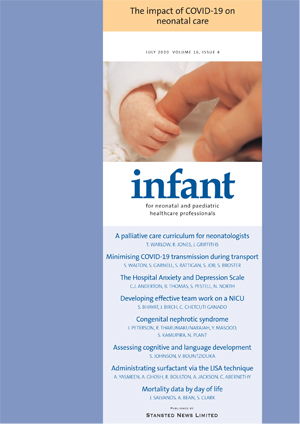 Infant journal covers a wide range of subjects that reflects the varied roles of the professionals working in this area. Practical and clinically based, Infant supports neonatal and infant paediatric nursing and medical practice and develops professional education and health promotion skills.
Infant provides a valuable resource for everyone involved in caring for premature babies and critically ill infants. Technological developments and their impact on care are discussed, as well as the social and psychological issues relating to family support and child development.
Articles in the July 2020 issue, available now, include:

The impact of COVID-19 on neonatal care
A palliative care curriculum for neonatologists
Minimising COVID-19 transmission during transport
Administering the Hospital Anxiety and Depression Scale
Developing effective team work on a NICU
Congenital nephrotic syndrome
Assessing cognitive and language development using the PARCA-R
Administrating surfactant via the LISA technique
Mortality data by day of life

Topics planned for the September 2020 issue include:

Stoma associated complications in neonates following laparotomy
Collaborative working to reduce mother-infant separation and drug errors
Transient peripheral vasospasm in a preterm newborn
Effects of massage on hyperbilirubinaemia, breastfeeding and growth
Nocturnal sleep architecture of preterm infants
Aplasia cutis congenita
Metabolic bone disease (osteopenia of prematurity)
Breastfeeding during COVID-19
Neonatologist performed echocardiography
A neonatal nutrition network for sub-Saharan Africa
Parents on neonatal transfers
The importance of staff health and well-being in the NICU environment
Infant has a board of distinguished advisors whose experience and knowledge ensures that articles carried in the journal are factually correct, topical and relevant for all readers. All articles published in Infant are subject to peer review in order to guarantee that all content meets the highest standards.
Regular features

Editorial
Case reports
Review articles

Clinical practice articles
Focus on a unit
Conference reviews