Volume 16/Issue 4, July 2020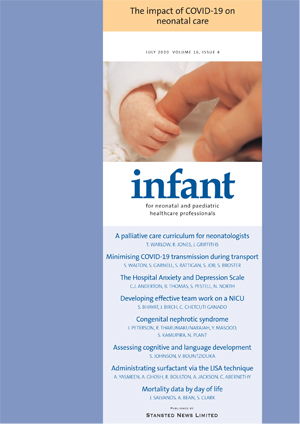 The articles in this issue are available to online subscribers as Adobe Acrobat PDF files and as an online page-viewer edition. Please visit our online store to buy a subscription. If you already have a subscription then please log in.
To buy a printed back copy of this issue, please call Tricia Rotheram on (01279) 714516.
---
Editorials
What do we know about COVID-19 in infants?
The impact of the SARS-CoV-2 pandemic on neonatal care
---
Case reports
A neonate with congenital nephrotic syndrome
---
Article
Development of better teamwork on a NICU using the TeamSTEPPS concept
Using the PARCA-R to assess children's cognitive and language development at two years of age
Mortality data by day of life: should this be part of parental counselling on the neonatal unit?
Administration of surfactant via the LISA technique in a level 3 unit in Scotland
Administering the Hospital Anxiety and Depression Scale within a neonatal unit
Supporting doctors to deliver paediatric palliative care on neonatal units: the development of a curriculum
Minimising COVID-19 transmission risk during neonatal transport: a practical approach from ANTS