Volume 16/Issue 1, January 2020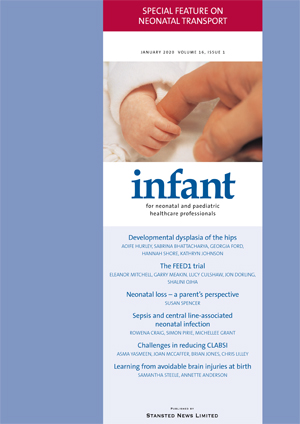 The articles in this issue are available to online subscribers as Adobe Acrobat PDF files and as an online page-viewer edition. Please visit our online store to buy a subscription. If you already have a subscription then please log in.
To buy a printed back copy of this issue, please call Tricia Rotheram on (01279) 714516.
---
Editorial
Organ donation saves lives – whatever the age of the donor
Improving bereavement care for those affected by pregnancy loss or the death of a baby
---
Article
Neonatal loss – our journey
Full milk feeding from day one for preterm infants
Sepsis and central line-associated neonatal infection: a care bundle QI project
Challenges in reducing central line-associated bloodstream infections in a tertiary neonatal unit: an ongoing quality improvement project
---
Audits
Developmental dysplasia of the hips: a three-year cross sectional study of hip screening in Leeds
---
Product review
Neonatal transport: a guide to the latest equipment
---
Report
Embracing excellence in neonatal transport
---
Special report
NHS Resolution's Early Notification scheme: learning from avoidable brain injuries at birth
---
Regulars
Guidelines for the management of babies who are accidentally dropped in hospital: have these been developed in your service?