Volume 15/Issue 6, November 2019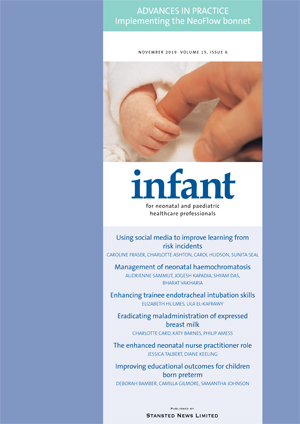 The articles in this issue are available to online subscribers as Adobe Acrobat PDF files and as an online page-viewer edition. Please visit our online store to buy a subscription. If you already have a subscription then please log in.
To buy a printed back copy of this issue, please call Tricia Rotheram on (01279) 714516.
---
Editorial
LactaMap, an online lactation care support system
Feeling good about feeding babies
---
Case reports
Prevention is indeed better than cure: the successful management of neonatal haemochromatosis
---
Advances in Practice
Implementing the NeoFlow bonnet in clinical practice - Free download PDF
---
Article
Can we eradicate maladministration of expressed breast milk using a risk analysis approach?
Improving educational outcomes for children born preterm: a new approach
The development and impact of the ENNP role in the NICU
Enhancing trainee endotracheal intubation skills on the NICU
Using social media to improve the communication bottleneck in learning from risk incidents
---
Report
Extending horizons in perinatal medicine, the fifth Swansea Perinatal Symposium (SWAPS 2019)
Celebrating excellence in neonatal care and prioritising family involvement, Bliss Baby Charter Conference, Leicester
---
Regulars