Volume 14/Issue 3, May 2018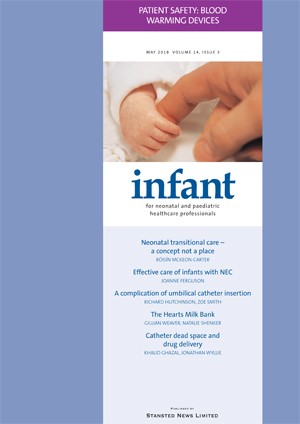 The articles in this issue are available to online subscribers as Adobe Acrobat PDF files and as an online page-viewer edition. Please visit our online store to buy a subscription. If you already have a subscription then please log in.
To buy a printed back copy of this issue, please call Tricia Rotheram on (01279) 714516.
---
Editorial
Removing barriers to effective care of infants with necrotising enterocolitis
---
Case report
Under pressure – a forgotten complication of umbilical catheter insertion
---
Article
Neonatal transitional care – a concept not a place
Hearts Milk Bank: developing the 'bank with a difference'
National UK survey of blood warming devices for neonatal exchange transfusion
---
Report
Experts discuss babies with an uncertain future
Bliss Neonatal Excellence awards: celebrating outstanding individuals, teams and projects
---
Article
Dead space volumes of catheters and drug delivery: does it matter?
Letter to the editor: Discussing cows' milk protein and NEC
---
Regulars
News
Book reviews
Conference planner