Volume 14/Issue 1, January 2018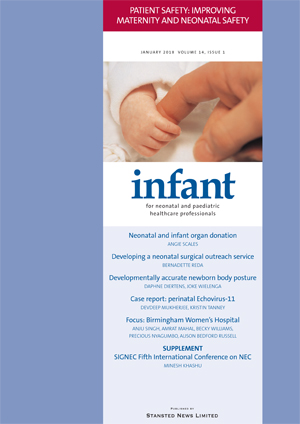 The articles in this issue are available to online subscribers as Adobe Acrobat PDF files and as an online page-viewer edition. Please visit our online store to buy a subscription. If you already have a subscription then please log in.
To buy a printed back copy of this issue, please call Tricia Rotheram on (01279) 714516.
---
Editorial
New RCOT guideline highlights the potential contribution of occupational therapy to the neonatal multidisciplinary team
MRF's eTool: improving the recognition, diagnosis and management of bacterial meningitis
---
Case reports
Perinatal Echovirus-11: a potentially fatal infection
---
Article
Neonatal and infant organ donation: a challenging concept?
Knowledge of neonatal organ donation among middle grade (registrar) doctors in tertiary neonatal units
Developmentally accurate body posture of newborn infants: a quality assessment using the neoPAW score
Maternity and neonatal safety: new initiatives for improvements in England
Nursing the surgical neonate part 1: developing a neonatal surgical outreach service
---
Special report
Campaign for change: a move towards better facilities for parents
---
Article
Optimising human milk feeds is vital for future outcomes
Improving team engagement at Birmingham Women's Hospital: a stand-up solution
---
Supplement
SIGNEC Fifth International Conference on Necrotising Enterocolitis - Free download PDF
---
Regulars
News