CosyTherm warming system
Taking a step forward in developmental care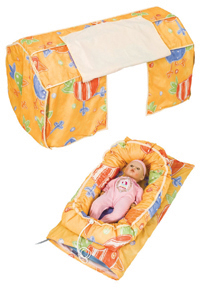 Designed to meet the growing demand for developmental care accessories, Inditherm has introduced a range of neonatal nests, cot hoods and incubator covers.
With sizes to fit CosyTherm and most other popular warming systems, the CosyNest completely encircles the baby, providing a comfortable boundary at head, feet and sides. The drawstring allows the size to be adapted to each individual patient.
The CosyHood range, designed to fit different types of cots and cribs, helps to protect the baby's eyes from excess light while also reducing exposure to draughts and noise.
Fitting most of the incubator models used in the UK, CosyCovers come in plain or padded styles and are designed to protect vulnerable newborn infants from light and noise. The padded version provides greater acoustic attenuation. Every CosyCover is designed with flaps to allow full observation of the patient without removal of the cover. The flaps can be opened and fastened back when treating the baby, ensuring that aseptic techniques are not compromised.
Designed and manufactured in the UK, Inditherm neonatal accessories are presented in a family-friendly print material and are fully lined with 'blackout' material in a neutral shade. All Inditherm accessories have flammability rating to British Standards, are fully machine-washable at 71°C to meet infection control requirements and can be safely tumble-dried.