Nutrisafe 2 enteral feeding range
Enteral feeding range ideal for the smallest of patients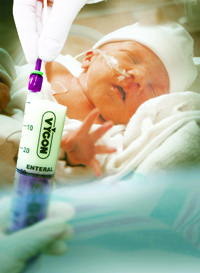 Nutrisafe 2 is Vygon's complete and unique system that helps hospitals meet the National Patient Safety Agency (NPSA) guidelines for safe, secure enteral delivery.
It is specially designed with the smallest patients in mind. The compact secure design of Nutrisafe 2 connections, with 30% less dead space than other available devices, ensures safer, more accurate delivery of intensive care drugs.
The unique Nutrisafe 2 secure lockable non-luer system gives peace of mind that babies are safe from misconnections and wrong route drug errors. The Nutrisafe 2 range features purple hubs and size-related colour-coded caps, further minimising the risk of accidentally attempting to connect devices intended for use with IV lines.