Neo Restraint multi point securing system
Infant restraint and support system from ParAid Medical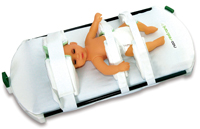 Neonates in need of transfer are often the most vulnerable. The Neo Restraint from Paraid Medical answers the need for a close-proximity infant restraining and support system to prevent injury during ambulance transfers and within hospital environments. The Neo Restraint is a multi-point securing system which fits existing infant incubators and is adjustable in three directions for different sizes of infants, positions and conditions. Its wedge design removes pressure points and raises securing strapping above the infant for non-abrasive support.
For hygiene control, comfort and practicality, Neo Restraint is made from 100% washable breathable fabric and strapping.
The Neo Restraint is the result of development by designers and clinicians and is one of several innovations by ParAid Medical, an ISO 9001:2000 accredited British manufacturer which specialises in patient transportation and handling systems. Neo Restraint carries the CE mark.