Transporter Plus incubator trolley
Transporter +Plus incubators from ParAid Medical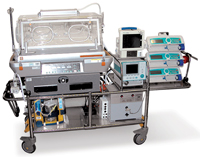 ParAid Medical's latest generation of Transporter +Plus incubator trolleys is the result of 20 years' experience in the specialist field of hospital patient care and transportation. Specifically tailored to clinicians' needs, Transporter +Plus trolleys are designed around a choice of incubators, monitoring and support systems and manufactured to ISO 9001:2001. ParAid's design team works with clinicians to identify their preferences before producing a computer visualisation of the chosen Transporter +Plus.
The trolleys are available for road and aeromedical transfers to Civil Aviation Authority accreditation and built to accommodate any incubator models, including TI500, TI500 Globetrotter, Atom Plus and vital signs monitors and support packs along with any other requirements.
The inter-operable locking system is compatible with existing ambulance floor locks. Transporter +Plus trolleys are already in use in UK NHS neonatal units.