High flow oxygen therapy system
High flow oxygen therapy from Inspiration Healthcare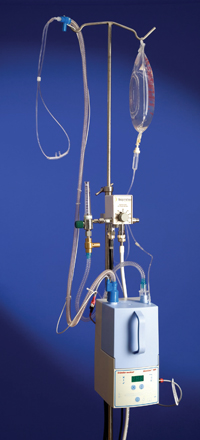 The high flow oxygen therapy system from Inspiration Healthcare provides optimal heating and humidification of respiratory gases. Delivering humidification through nasal cannula, the system is ideal for use in the NICU and paediatric intensive care. It is able to supply a flow of between 0.5-8 Lpm of 100% relative humidity.
The system offers excellent performance and flexibility when compared with existing methods of oxygen therapy. Clinicians have the ability to control the gas conditioning parameters and offer individual patient care. Mobilisation of secretions reduces the damage to mucosal tissues.
Lightweight disposable chambers and patient circuits can be used for up to thirty days providing a simple and safe solution to humidification. The system is easy to set up and the externally heated patient circuit eliminates rain out.