ParAid new incubator and trolley system
Improved neonate transfer system for Isle of Man Air Ambulance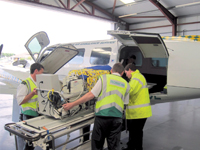 The air ambulance service based on the Isle of Man, operated from Nobles Hospital in Douglas, is equipped with a Piper Chieftain aircraft. The service is often used to transfer sick babies to the mainland and back.
Working with Nobles hospital, ParAid Medical developed and supplied a new incubator and trolley system that was compatible with three aircraft types and EASA (European Aviation Safety Authority) certified. The ParAid Medical incubator system sits in a frame and is designed to go on and off aircraft on a slide and glide system for transfer between aircraft and ambulance.
According to Paul McCann, lead nurse for neonatal services on the Isle of Man, the new system works superbly.
The new ParAid Medical equipment has proved very successful in overcoming the limitations of the old stand-alone equipment. This had manual handling issues as, at 128kg, it was very heavy for lifting in and out of aircraft. Also the old equipment was limited in its supply of gas and power and accessibility to other vital sign monitors, which is not the case with the ParAid Medical Equipment.