CosyCrib from Inditherm
CosyCrib – versatile and height adjustable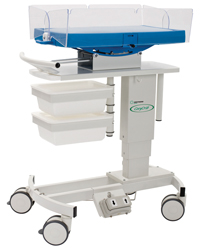 The CosyCrib from Inditherm provides a safe and practical system for nursing the newborn baby, creating the perfect environment for developmental care. Its clear sides give full visibility of the infant and are easily raised and lowered, with a range of positions to ensure complete safety during transport, practical protection in routine use and unhindered access for clinical procedures and emergency treatments.
The electrically-operated platform height is continuously variable, and completely smooth and quiet. The design takes into account health and safety considerations for staff and access for parents, including post-caesarean mothers and wheelchair users.
The system is fully equipped with a range of practical features as standard. Generous storage is unobtrusive yet readily accessed; a washable hood to shield the baby from light is easily set up and removed; retractable shelves facilitate the convenient placement of items for routine washing and changing.
The CosyCrib combines ease of operation with advanced nursing features, releasing more expensive equipment for infants needing more intensive treatment.