nCPAP disposables
New nCPAP disposables from Inspiration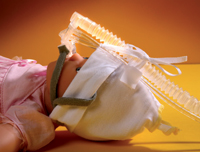 Many preterm babies will require respiratory support once they are born. Nasal CPAP can help early extubation and weaning from ventilators and prevent babies needing further ventilation.
The Inspire nCPAP range from Inspiration Healthcare Ltd consists of an nCPAP generator that benefits from established fluidic principles to provide a non-invasive respiratory support to the neonate, along with circuits, bonnets masks and prongs to facilitate ease of use.
The nCPAP range:
• Is compatible with all nCPAP drivers
• Delivers stable CPAP
• Comes with masks and prongs
• Has transport or NICU circuit configuration
• Features 12 sizes of colour bonnets for ease of fixation.