Getting to Know your Baby pack
Getting to know your baby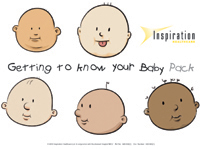 Designed for young siblings who have a baby in intensive care the Getting To Know Your Baby Pack contains crayons, colouring sheets and a keepsake box.
The pack was created by Chrissie Israel, Developmental Care Specialist Nurse at Southmead Hospital, to allow siblings to share their feelings about their baby brother or sister and increase their understanding of the family situation. Each colouring sheet is carefully designed to encourage siblings to communicate with parents through their drawings and the pop-up keepsake box allows them to collect items from the baby's journey on the NICU.
It is an excellent way to support the sibling in the family and allow them to get to know their baby.