Ameda Elite breastpump
Ameda breastpumps available from Central Medical Supplies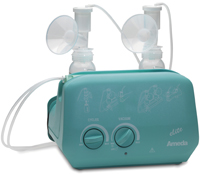 Central Medical Supplies (CMS) has become the exclusive distributor for Ameda breast pumps and breastfeeding equipment in the UK.
Ameda has a long heritage in breastfeeding. Over 60 years ago, engineer Einar Egnell invented the first truly comfortable and effective breast pump. He also created the vacuum and cycle standards that lactation consultants now use to assess breast pump efficiency. Today, Ameda breast pumps combine Einar's innovative technology with 21st century features.
The Ameda Elite hospital grade double electric breast pump is BPA-free and allows mothers to control the suction strength and cycle speed to simulate their baby's feeding patterns. Suction and cycle options are set independently and are adjustable to personal comfort. The patented Ameda silicone diaphragm creates an important barrier protecting the pump and breast milk from potential viruses and bacteria.
CMS offers a flexible, cost-effective breast pump rental scheme for parents.