ParAid Medical handling and transportation website
Paraid's custom-built transport solutions featured online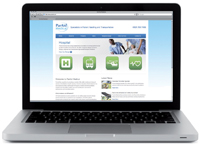 ParAid Medical has launched a new website as part of a drive to raise the profile of its bespoke transport trolley and specialised equipment product offering.
ParAid Medical specialises in the design and manufacture of bespoke medical handling and transportation solutions for a wide range of organisations, from ambulance and neonatal transport services to aeromedical teams.
The past 12 months has seen an increasing demand for custom-built solutions to patient handling and transportation needs and the website demonstrates the flexibility of Paraid's product solutions to medical response teams in a simple, interactive way.
A configuration tool allows products to be customised and built onscreen to personal specifications. The neonatal, paediatric and adult trolleys are viewed dynamically from multiple perspectives and additional equipment such as incubators, ventilators and monitors selected. This can be sent directly to ParAid Medical's design team and realised in 3D. Medical teams can work together to select key features on their equipment to form the basis of a transport system.