Sucrose vials
Natural 24% sucrose delivery system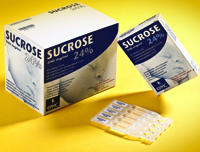 For the last seven years, Inspiration Healthcare Ltd has been supplying sucrose solution to neonatal units, paediatric and postnatal wards as well as community midwifery teams. Sucrose can be used to help calm and comfort babies when they are undergoing painful procedures. Feedback from users in all areas has led to the introduction of a new method of delivering sucrose to answer many of the suggestions raised.
The new natural 24% sucrose is available in single patient twist-cap vials, each containing 1.5mL of 24% sucrose solution. The 24% sucrose is available with a three-year shelf life from date of manufacture and is sterile packaged under the pharmaceutical Good Manufacturing Process (GMP), so the risk of bacterial growth is significantly reduced. It is preservative free.
Each single patient vial is graduated in 0.5mL increments so the sucrose can be accurately delivered, drop-by-drop to the baby. Once opened, a vial can be laid flat at the cot-side for reapplication for up to eight hours, eliminating the cost of a syringe. It is simple to use and ideal for use in newborn transfer as well as in the community setting, where the traditional cups are easily spilt and significant wastage has been reported.
If your unit or department has an agreed protocol on the administration of sucrose, Inspiration Healthcare would be happy to provide samples for clinical use.