CosyTherm system
Inditherm launches neonatal accessory range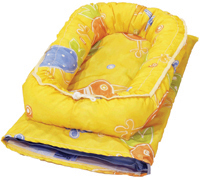 Inditherm Medical has launched a range of neonatal accessories to complement the successful CosyTherm system. Designed and constructed to the highest quality, the products have a cheerful appearance and withstand hospital wash standards.
The range includes CosyNest, constructed to completely encircle the newborn infant and provide a comfortable boundary at head, feet and sides. CosyHood fits to cribs to protect the baby from excess light while also reducing exposure to draughts and noise. CosyCover fits a variety of incubators giving infants protection from light and noise, yet allows all-round observation and access to the patient without compromising aseptic technique.
All accessories come in a range of shapes and sizes.