KanMed Baby Warmer
KanMed Baby Warmer offers a comfortable cosy environment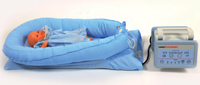 The KanMed Baby Warmer is a safe and gentle way of warming premature and newborn babies weighing as little as 900g. This effective and cosy system can be used as an alternative to an incubator, where only warming is required. Baby is placed on a soft and warm water mattress kept at 37 degrees C. This emulates skin-to-skin comfort and ensures that the baby is able to relax, sleep and gain weight.
The lightweight water mattress is warmed by a low voltage heating element. The warmth is provided in a cosy and noiseless environment, which keeps baby calm, safe and secure. The water mattress is surrounded by the KanMed Baby Nest, which can be adjusted to create a tight or loose fit around the baby depending on the nesting effect desired. It also ensures correct positioning, aiding development by keeping the shoulders and hip joints in alignment.
With open access to the cot mum can establish closer contact and breast feed. Parents are able to see their baby in a normal environment, where they are able to touch and bond with their child. There is less noise than in an incubator and running costs are low. Due to the low voltage heating element used the baby's environment is free of electric and magnetic fields.
The unit can be used in phototherapy, to complement kangaroo care, for twins and with CPAP and pulseoximetry.
KanMed Baby Warmer is simple to use, robust and easy to keep clean.