Vapotherm Precision Flow
Use of high flow therapy on the increase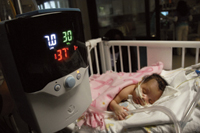 Vapotherm Inc has been at the forefront in the development of high flow therapy (HFT) since its inception. Over the past several years there has been a marked increase in the use of nasal cannula to deliver high flows of humidified respiratory gas to neonatal patients. During this period, research has been conducted and published examining safety and efficacy as well as exploring means of optimising the therapeutic impact of high flow nasal cannula.
Fundamentally, HFT is not just the delivery of greater nasal gas flows, but rather nasal cannula flows that exceed a patient's inspiratory demand, yet also are adequate to purge the dead space of the upper airway between breaths. In adults, these two criteria are met with the same flow rate (25-35 L/min); however, in infants the flow rates that meet inspiratory demand (typically 1-2 L/min) may not be sufficient to purge the relatively larger pharyngeal dead space volume in the shorter window of time between breaths.
Cannula flow provided at sufficient flow rates (4-8 L/min) not only serves as O2 therapy but also supports ventilation in spontaneous breathers by way of impacting CO2 elimination.
The Precision Flow from Vapotherm represents the most advanced system for the delivery of HFT incorporating highly accurate gas blending, O2 measurement, 100% relative humidity without rainout and precise temperature control.