Nutriline IV Catheter
Catheters for prematures, neonates, infants and children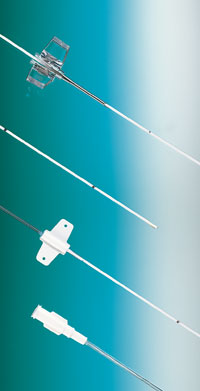 Peripherally inserted, radio-opaque IV catheters in polyurethane for long-term venous access (administration of medication, parenteral nutrition, etc).
1 splitting introducer needle, withdrawn completely after insertion of the catheter - Catheter with markings every 5cm.
Catheter in highly thermo-sensitive standard polyurethane which makes catheter insertion easy, yet softens quickly after insertion - Wings and integral extension tube to give comfortable fixation. Length of extension tube (PUR) : 14 cm.
Available: 2F/23G, 3F/19G, 4F/18G